This article titled "Demand for new Star Wars film tickets prompts site crashes" was written by Ben Child, for theguardian.com on Monday 19th October 2015 17.14 UTC
Cinema websites have crashed under the weight of demand for the first UK screenings of new Star Wars movie The Force Awakens.
Odeon and Picturehouse both said on Monday that their sites had been hit, the latter citing "unprecedented" demand, though Vue Cinemas reported customers purchasing without delays. The company, the third-largest in the UK with 80 cinemas, said it sold 10,000 tickets in the first 90 minutes of tickets going on sale. A spokesperson said demand represented "the biggest first hour of advance ticket sales seen so far this year", adding: "It would normally take a matter of weeks for advance sales to reach this level."
The ticket deluge took place on the same day as studio Disney released the official poster for JJ Abrams' eagerly-awaited space opera reboot, featuring a cavalcade of famous faces and a handful of new characters – but no Luke Skywalker. Presented in the style of Drew Struzan's famous montage-style artwork for the original Star Wars trilogy, the artwork left fans with more questions than answers.
Some speculated that the presence in prominent positions of British stars Daisy Ridley, who plays lightsaber-wielding glider rider Rey, and John Boyega (as rogue stormtrooper Finn) hinted that the duo's stories would sit at the heart of The Force Awakens. Others pointed to the giant, planet-like object, and wondered if it might be a new Death Star, or the rumoured "Starkiller Base" from where the movie's nefarious First Order are expected to launch their dastardly plans.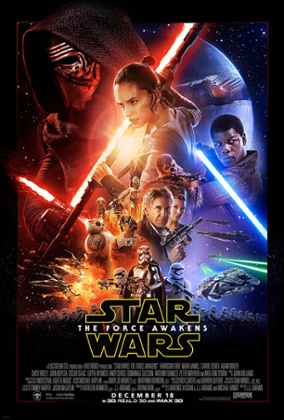 The poster's most glaring omission appears to be the absence of Mark Hamill's Luke Skywalker, still unseen in costume, bar a few rogue paparazzi shots. Others noted that Domhnall Gleeson's General Hux, and Andy Serkis's mo-capped Supreme Leader Snoke, speaker of the already-famous "dark side, and the light" line in last November's teaser trailer, were also absent.
The poster did present fans' first look, outside a quick glimpse in a recent behind-the-scenes video, at Carrie Fisher's Princess Leia Organa, sporting a typically extravagant hairdo and nestled in behind Harrison Ford's Han Solo. It also featured a tiny glimpse of a goggles-wearing alien that might just be Oscar-winner Lupita Nyong'o's space pirate Maz Kanata – another character played entirely via motion capture.
More is expected to be revealed on Tuesday when the first new Star Wars: The Force Awakens trailer since April hits the internet in the early hours of the morning, UK time. Abrams' film, which arrives in British cinemas on 17 December, is the first in a new trilogy of Star Wars movies set for release between now and 2019.
Disney, which bought all rights to the long-running space opera saga in October 2012, is also releasing a series of spin-off "Star Wars Story" films. The first to hit multiplexes will be Gareth Edwards' Rogue One, which will focus on a group of rebel fighters vying to steal the plans to the original Death Star. Starring Felicity Jones, Diego Luna, Riz Ahmed, Ben Mendelsohn and Forest Whitaker, it is expected to debut in December 2016.
guardian.co.uk © Guardian News & Media Limited 2010
Published via the Guardian News Feed plugin for WordPress.
Journalism Tutor
at
NZ Radio Training School
Myrddin Gwynedd is an award-winning writer who hails from Wales. He lives in Auckland, New Zealand, with his partner and an army of felines.
Latest posts by Myrddin Gwynedd (see all)